Click here for a zoomable, hi-res version of the chart.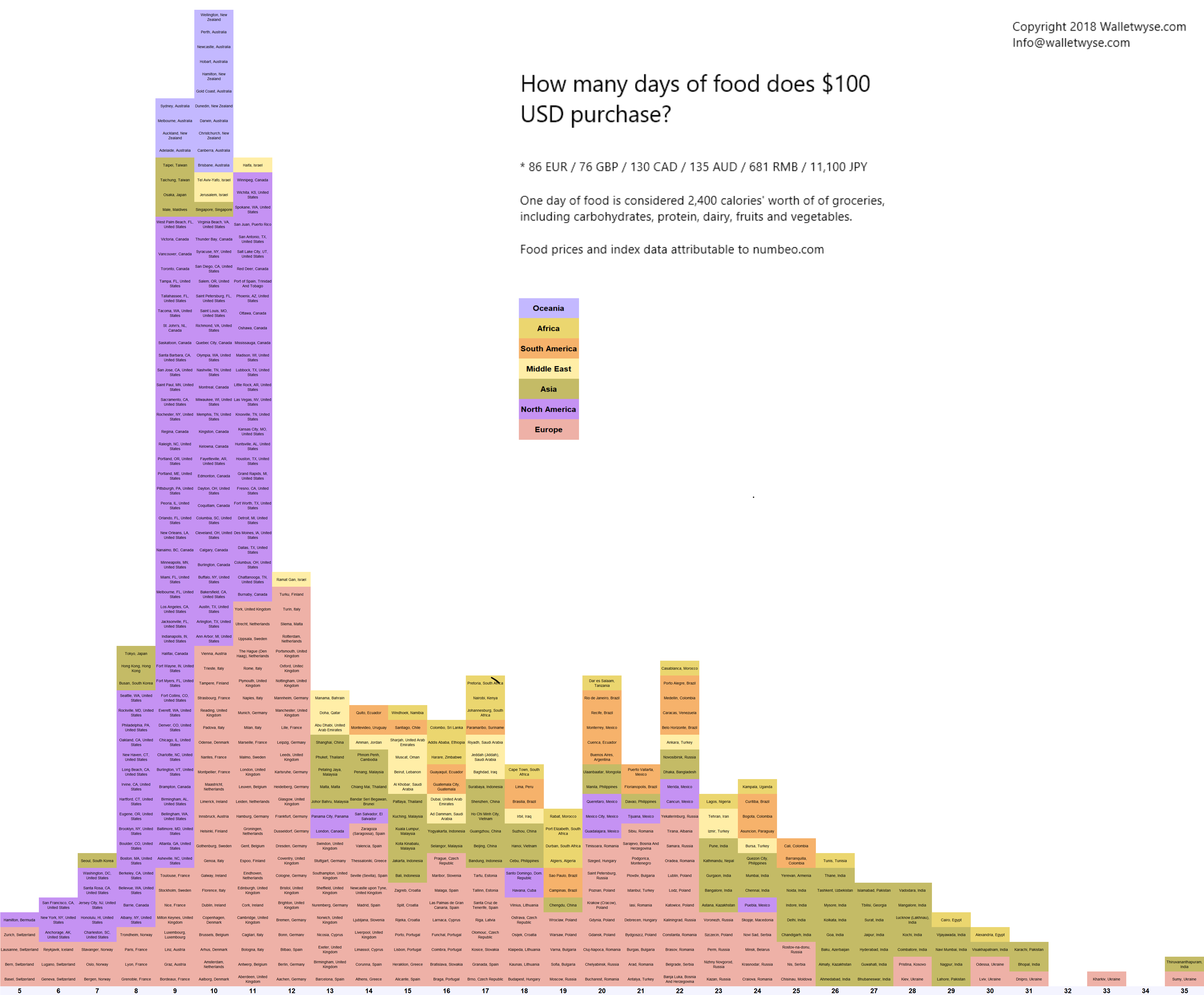 When it comes to our basic needs - and the basic expenditures it takes to meet them - none is more important than food. We decided to kick off our 2018 Global Basic Needs Comparison series by showing how far $100 USD will go to provide for a single person's daily nourishment, measured in days.
The beauty of a visualization is you don't need to read through a report to start picking out insights and seeing trends, but there are a few insight we wanted to call out:
The three most expensive cities for groceries in the U.S. are San Francisco, New York City, and Anchorage, Alaska. After New York & San Francisco's Top Top Rankings in our global rent survey we weren't surprised to see SF & NYC at the top of the chart, but it was interesting that Anchorage, which is middle-of-the-road for rental prices, is on par with the two priciest cities for groceries.
Otherwise, the North America transportation network apparently does an amazing job at food distribution. Excluding outliers, $100 USD purchased between 7-11 days of food in practically every U.S. and Canadian city. Contrast that to Europe, where 86 Euros purchased as little as 5-6 days in Switzerland to more than a month's worth of food in some Ukranian cities.
Grocery prices in Australia and New Zealand behave much more like they do in North America than in Europe. 135 AUD consistently allows you to eat for 8 or 9 days.
Excluding Hong Kong, Japan & South Korea, staple groceries in East & South East Asia are relatively inexpensive (13-18 days). Prices drop significantly going into Central Asia & India (23-31 days).
While you're here, take a look at our recently upgraded calculators. Keep checking back, because in addition to more Global Basic Needs articles, we've got a travel cost calculator coming out soon, in the same thoughtful and intuitive format.